All right, it's time for the big diaper debate: cloth vs. disposable.
Early on in my pregnancy with Lincoln I discovered cloth diapers and immediately fell in love with the idea. They were just so darn cute–that was initially what led me in. But then I figured out how much it would cost to diaper a baby in disposables for the next two and a half years, and even Chris was sold on the idea of cloth after that. 
Now, there are people who can get away with cloth diapering for just a couple hundred dollars. I envy those people a little bit, but I was definitely not one of them. Even though I know we could have grown our stash for much cheaper using just prefolds and covers, I'm a sucker for the cuteness. So I'm one of the ones who's spent way more than necessary on a cloth diaper stash. And even still we've come out way ahead on the cost of diapers. 
I mean, come on. How do you pass this print up?
So here's my personal expenditure, from a we-didn't-try-all-that-hard-to-keep-costs-down point of view. I listed every diaper expense below from the time we knew we were pregnant until now.
From 2015-2017, we spent $740.16 on cloth diapers and diapering accessories. This covered Lincoln's entire diapering experience, and then he potty trained in the summer of 2018. The low end of average disposable diaper costs over 2.5 years is $1,500 and the high end is around $3,000. So we were able to create a huge stash with half the amount it would have taken to use disposables.
And the best part? Now we're set to diaper the next baby at no additional cost. All of our diapers are still in excellent condition, no stains, stretchy elastic, the whole shebang. Because we had such a large stash, our diapers have held up very well over time.
(Of course, just because we're all set doesn't mean I won't end up buying more diapers. In fact, if you look at my inventory list below, you'll see all the ones I've bought in 2018 in preparation for Baby #2 already. What can I say, Thirsties came out with some amazing prints this year. And then Cotton Babies had to go and have a huge sale on BumGenius diapers that was literally impossible to pass up!)
And the second best part? As long as we keep our diapers in good condition, I'll easily be able to sell them to another family once we're done having kids. No, I won't recoup the entire cost of our stash, but I'll probably be able to get at least 50% on most of our diapers. When was the last time someone reclaimed money on the thousands of diapers that get thrown out with the garbage every day?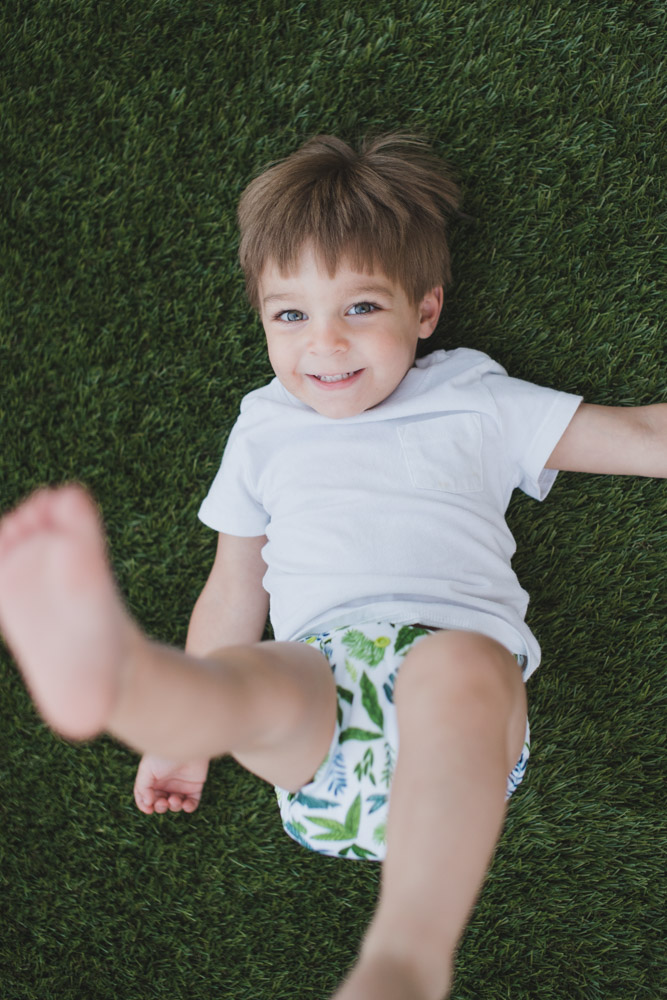 Stay tuned for the next part of the series: Cloth vs Disposable Diapers: The Convenience.
Our Cloth Diaper Inventory and Cost Breakdown
2015
Thirsties (Scottish Storm AIO): $19.75
Thirsties pocket (Mango): $20.75
BumGenius Freetime (Teal/Hummingbird): $19.95
BumGenius Pocket (Blue/Moonbeam): $16.95
Thirsties Doublers (2 packs of 3): $8
Thirsties Diaper Pail Liner: $17.50
Dandelion Diapers organic cotton refolds (size 1, 6 prefolds): $9.95
Snappis (Pack of 5): $15.75
Random brand wet bag: $6.99
Thirsties Duo Wraps Size 1 (Whale Tail, Fin, School of Fish): $12.99 each, $38.97 total)
BumGenius newborns (6) (Bought used on Cloth Diaper Trader): Approx. $40
2 Free newborn gDiapers (from Cloth Diaper Trader purchase)
12 Alva Baby pockets: $77.90
Gifted: 3 BumGenius pockets
2015 Cloth Diaper Cost: $292.46
2016
Thirsties pocket (Moss): $20.75
Thirsties AIO (Ocean Life): $22
Thirsties pocket (Silver Dollar) $20.73
Dandelion Diapers organic cotton refolds (size 3, 6 prefolds): $14.38
Charlie's Soap (hard water softener): $14.99
GDiapers (Medium): $21.99
BumGenius Freetime (Albert): $19.95
Thirsties AIO (Moss): $19.75
Thirsties pocket (Ocean Blue): $20.75
Random Brand AIO (fox print): $16.99
Thirsties 2 AIOs (Sand Dollar/School of Fish): $26.50
Thirsties AIO (Whale Tail): $18.95
Thirsties Pocket (Whale Tail): $19.95
Thirsties Duo Fab Fitted (Meadow/Green): $16.50
Thirsties 2 AIOs (Winter Woods, Happy Camper): $33.58
Thirsties Hemp Inserts 2 pack: $7.44
Thirsties: Midnight Blue & Moss sz 2 Duos, Adventure Trial pocket, Fallen Leaves wet bag): $42.88
2016 Cloth Diaper Cost: $358.08
2017
Disana organic wool cover: $22.94
Thirsties: Hemp inserts and Size 2 Duo: Won on Thirsties Thursday giveaway
Thirsties: Woodland collection 5 AIOs: $66.68
2017 Cloth Diaper Cost: $89.62
2018
Thirsties 2 AIOs (02 Revival, Fern): $37.90
Thirsties 2 Newborn AIOs (02 Revival, Fern): $29.50
Thirsties 2 Newborn AIOs (Heart to Heart, Birdie): $27.28
Thirsties Due Wrap (Size 1, Heart to Heart): $12.75
Thirsties 3 Newborn AIOs (Winter Woods, Floribunda, Classic Jurassic): $37.62
BumGenius (Prairie Print): Free with Cotton Babies purchase)
BumGenius 5 Freetimes (Mirror, Oops x 2, Alicia, Newborn Stellar): $70.75
BumGenius 5 Freetimes (Auction: Original Albert, Louis, clementine, mirror, moonbeam): $40
2018 Cloth Diaper Cost: $255.80
2019
Thirsties 2 Newborn Natural AIO (Endangered, Plume), Natural AIO (Endangered): $63.45
Thirsties Newborn Natural AIO (Rainbow), Duo Wrap size 1 (Rainbow): $34.95
Thirsties AIO (Rainbow), Duo Wrap (Peony): $29.25
Thirsties AIO (Modern Jurassic), Natural AIO (Science), 2 Natural Pockets (Modern Jurassic, Moon Blossom) : $93.40
Thirsties Natural Fitted Diapers (2), Diaper Pail Liner: $61.13
Thirsties Natural Pocket (Merry Moose-Has): $22.50
Thirsties AIO (Merry Moose-Mas) & Duo Wrap Size 2 (Merry Moose-Mas): $35.12
2019 Cloth Diaper Cost: $339.8
2020
Thirsties Duo Wrap (Size 1, Floribunda): $15.00
Thirsties AIOs (Floribunda, Camper): $25
Thirsties Natural AIOs and size 2 duo wraps (one of each in aplix and snaps): $130.30
Thirsties pocket (Peony) used: $18
Bumgenius AIO (Albert) used: $12
Thirsties Natural AIO and size 2 duo wraps (Jaws 2 and Fish Tales): $52.45
Thirsties Natural Pockets (Leap, Fish Tales) + Rocket AIO: $67.45
Nicki's Diapers Ultimate AIOs (Little Dipper and Lemon Drop): $24.21
Thirsties new stay dry NAIO (Birdie and Mountain Twilight) from SweetBottoms: $52.27
Thirsties new stay dry NAIO (Forest Frolic) and Size 2 swim diapers (Azalea and Palm Paradise) from Green Mountain Diapers: $57.45
Update: Now that Baby #2 is here, and I've learned from Baby #1 that we LOVE the Thirsties brand, I've been working on selling some of our other brands, as well as some of our Thirsties that we no longer need. Baby #2 is just about out of the newborn diapers, so I'll be listing those soon- excited to see what I can get back for them. (And also ridiculously sad to see them go.)
SOLD: 6 BumGenius & 3 GMD newborn workhorses: $74